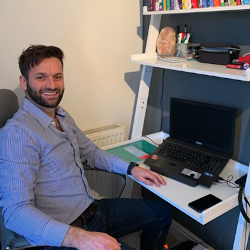 Tim is relatively new to a management role. Having qualified in 2013, he has worked his way up at South Gloucestershire Council and attributes his rapid rise to the investment the council has made in him.
'Working at a smaller authority, you might think that there are fewer opportunities to develop and progress, but I think the opposite is true. We're a relatively small authority and we have strong connections with services managers and heads of service. 
'There are strong links between teams and there are good opportunities to experience different parts of the service, which is something which I've definitely benefited from.
'My managers have really pushed me to focus on my professional learning and development and that's something I'd like to think I have passed on to those I now manage. For me personally, I've had lots of development opportunities including completing the Practice Educator Programme when I was a Senior Social Worker which enabled me to support and assess students on placement and I've been on various management training and courses to help me progress my career as a manager and leader.
'We're also really lucky to be one of the very few other authorities in the area to have signed up to Firstline.  
'As part of the course I had a detailed one on one mentoring session with an experienced senior leader which was so useful in allowing me to reflect on my strengths, and I also brought back some new tools to help me better support my team. We've also built up a strong collective spirit amongst the management team who have attended.'