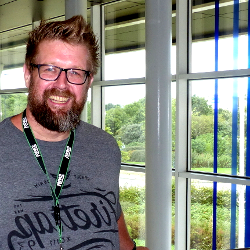 Tell me about your career to date
I started my career with the police. That job gave me a better understanding of social work and the opportunity to make a difference to people's lives through social work really appealed to me. It was a natural progression for me therefore to move into children's services. Having worked with children for a number of years, you realise how many of the issues stem from the child's relationships with adults and so when the opportunity to work in adult social care came up – whilst working for my local authority – I jumped at it. I've been working in my current role for two years now and I love it.
How have you found the change from children to adults?
It's very different, but I get to work every day with social workers, so it's a good environment to learn. We're encouraged to share knowledge and find better ways of doing things and ideas and suggestions are genuinely appreciated – I never feel like I'm asking a 'stupid' question.
Also, there's such a wide and broad range of training available it's like having your own fruit tree with an endless supply of apples, oranges, pears and plums! I am currently working towards a level 4 Qualification and Credit Framework in adult care, and I feel that when I've built up more experience, there'll be plenty of scope for progression.
I really enjoy getting out in the community to meet new people. I know it's a cliché but it's very rewarding being able to make a difference to people's lives and empowering them to help themselves.
What does South Gloucestershire Council have to offer?
Living locally, I knew a few people who worked for South Gloucestershire Council and all had nothing but positive things to say. Working here now I can see why.
It's a friendly, warm and supportive environment where everyone pulls together and helps each other out. We have regular team meetings and get good supervision; my manager is very approachable, supportive and is always available for us when we need him.
We work in a lovely building with excellent facilities, but more importantly it's at the heart of the community we support. We're based with the 14-25 transitions team and OT's, which helps with team-working and sharing experience and knowledge.
Also – whilst I know this won't appeal to everyone – driving through beautiful countryside to visits listening to The Archers is a real treat!
What would you say to someone who's considering relocating here?
Don't consider, do it. If you work well as part of a team and have the drive and ambition to make a difference then look no further. It's much more than an employer, it's a family.