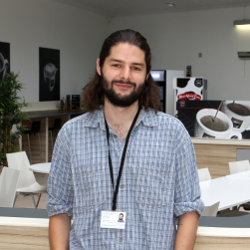 I've been a social worker in the adult social care team at South Gloucestershire Council for two years. This is my first job in a local authority; my background is in mental health, working within charities.
Choosing to work for South Gloucestershire Council was an easy decision for me. When I was studying towards my social work degree, I spent a week at South Gloucestershire, shadowing staff. Everyone was extremely supportive, which left me with a very positive impression, backing up what I'd heard from people who had worked there.
Investing in staff is clearly important to the council. Whilst university gives you a good grounding, it is very different actually doing the job for real and I realised early on that I still had a lot to learn. Luckily, I found so much support around me during my ASYE year that I've quickly caught up.
It's a really open and welcoming environment. My manager is extremely approachable, but if he's away, I know there's lots of people around me who I can speak to if I'm stuck on the best way to approach an issue, and I don't even think twice about asking for help. We're busy but have realistic caseloads and are never pressured to take on extra cases. Also, we're given the time and resources to think creatively about the best options for individuals.
What else does South Gloucestershire have to offer? Well, I think the training and development opportunities are excellent. Again, my manager has made time to talk through options and encourages me to find training to help me develop. I'll soon be starting my Approved Mental Health Professional qualification, which the council is sponsoring me to do.
Finally, the offices and working environment are great. Coming from a fairly small charity, the open plan office was initially a concern, but actually it's really useful sitting next to the brokerage, finance, OT teams and service managers. Also, if I need a break from work, there's a nice café and outside seating area in the office – which I certainly didn't have at my old work! And if I need space to think, we're surrounded by green spaces to take a walk.
We've got flexi-time, which means I've been able to keep up my support for a local mental health charity and finally, living in the city, my commute is really straightforward as I'm travelling against the flow of traffic! What more could I ask for?!